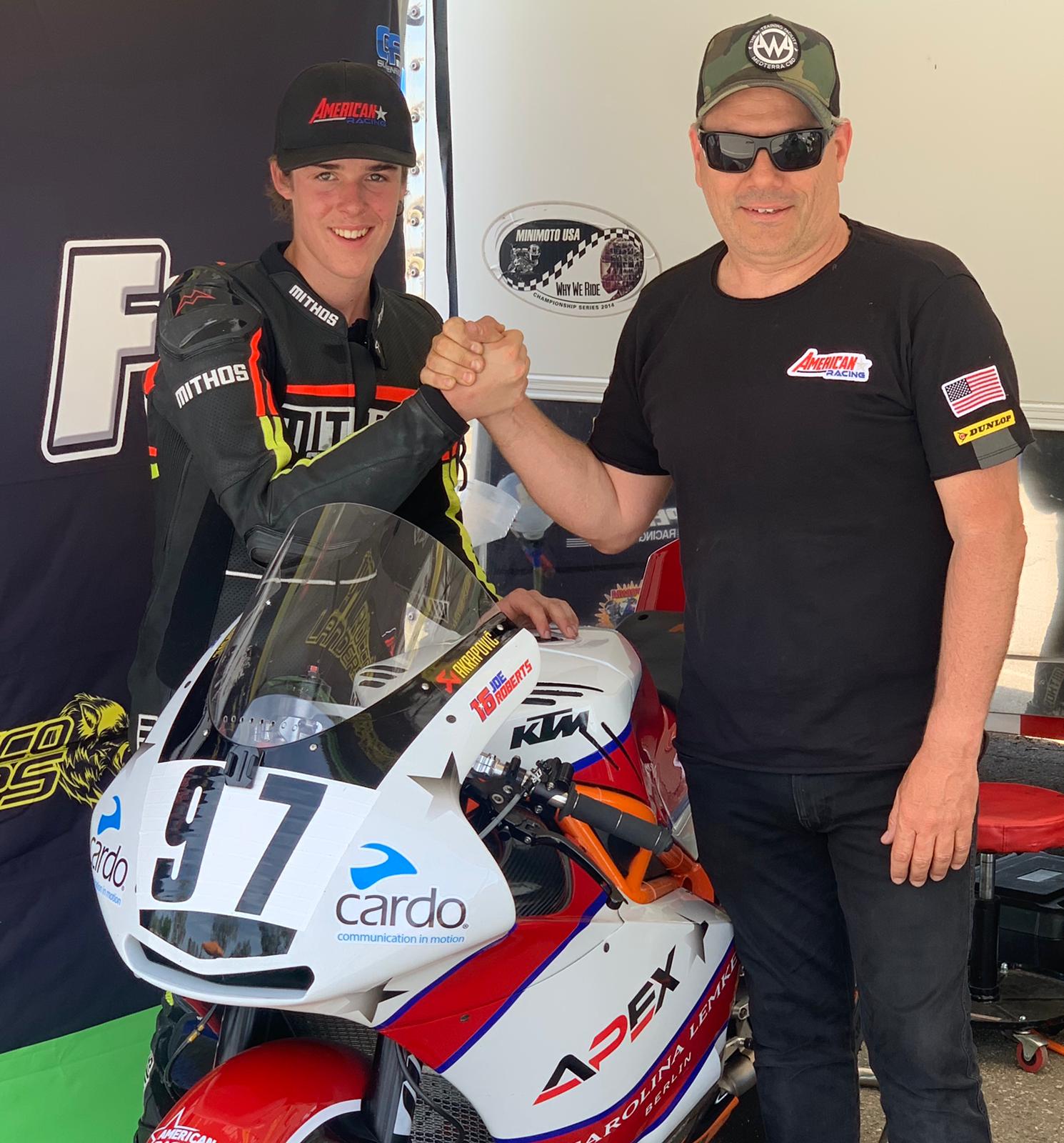 APEX Motorsport Agency and American Racing Academy are excited to announce the signing of American road racer Rocco Landers to a rider management contract. Landers is scheduled to participate in selected races aboard his Landers Racing Kawasaki as part of the 2020 MotoAmerica Liqui Moly Junior Cup Championship. He will also compete in the MotoAmerica Twins Cup Championship on a Suzuki as part of a collaboration between the American Racing Team and Team Hammer, Inc.
Last fall, Landers was chosen to participate in the prestigious 2020 Red Bull MotoGP Rookies Cup. Those plans are currently on hold due to the worldwide COVID-19 pandemic.
Landers brings with him his father Stoney Landers to be part of his management, training, and technical team.
Landers will join the American Racing Academy program managed by former MotoGP star John Hopkins. The signing of Landers to a three-year rider management contract is part of APEX Motorsport Agency's and American Racing Team owner Eitan Butbul's plan to develop American riders for World Championship competition. The Agency and American Racing Academy will provide coaching and support from Hopkins at the track and also provide Moto2 bikes for track days and training in the U.S. Technical support will be provided for all contracted riders by Matthieu Grodecoeur, Technical Director for American Racing's Moto2 team.
Butbul, along with Hopkins, continue to identify and recruit additional talented young Americans of different ages to join the Academy with the goal of preparing the next generation of world-class riders.
About the American Racing Team
The American Racing Team competes in the MotoGP World Championship. The team currently fields two riders in the Moto2 class: American Joe Roberts (#16) and Spaniard Marcos Ramirez (#42). They are the only team in the MotoGP series owned by an American and featuring an American rider. The team has grown under the guidance of team owner Eitan Butbul and is a respected part of the MotoGP World Championship paddock.