The following is from Hayden Schultz Racing…
After a weekend that presented many challenges, Hayden Schultz was able to continue his run of podium finishes in Twins Cup competition at Pittsburgh International Race Complex. Coming into a weekend with no previous experience at the circuit, Schultz would have to learn the track quickly.
After a promising start, Hayden would find himself at the top of qualifying until the last minutes. In an effort to regain pole position for the race, Schultz went back on track and pushed for a faster lap. He would not be able to top his previous time after suffering a high side crash that left him, and the bike battered. A team effort would be required from the Brittenum Construction / Law Tigers / Hayden Schultz Racing crew to get the bike repaired in time for the Sunday afternoon race. Fortunately, Schultz would escape the crash without any injuries that would keep him from racing. With a front row start, Schultz would manage to continue his podium streak with a lonely 3rd place ride in the race.
"It was quite the weekend at Pittsburgh. I learned a new track and got up to speed quickly. My team worked hard to give me a great bike and we found we had the pace to run up front," Schultz said. "In qualifying I found myself so close to pole that I had to push and unfortunately found the edge. I am blessed to walk away from that crash and able to race. Gene Burcham, Gary Jeffries, and Russell and Ron "Dink" Glidden are the best crew I could ask for and worked overtime to get the bike together for the race. I am happy to finish on the podium after that crash, but I feel like I had more than I showed in the race. I know we can battle with Rocco and Kaleb for wins, but I have to keep working hard to get there. My team and sponsors are incredible and have given me a great program, I'll be doing my all to get that first win."
The team was also joined by Twins Cup Veteran Jim Whitten. Jim would be making his season debut with the team after competing in the full series in 2019. After progressing in each session, Jim qualified for the race and finish in 24th in the race.
The team thanks its 2020 sponsors for their support: Law Tigers, Brittenum Construction, aRacer USA, Ohlins, Glidden Racing, 6D Helmets, RS Taichi USA, Moto Liberty, Blud Lubricants, Wossner Pistons, Robem Engineering, Moto-D, Dreyer Motorsports, Full Spectrum Power, Vance and Hines, Woodcraft Technologies, Shundi Self Storage.
The following is from C.J. LaRoche…
Bellaire, Ohio, resident C.J. LaRoche put in the best performances of his professional motorcycle racing career when MotoAmerica — the nation's official motorcycle road racing championship — visited Pittsburgh International Race Complex Aug. 7-9.

The owner of Bellaire's LaRoche Tree Service scored 11th- and ninth-place finishes in MotoAmerica's Supersport Class races on Saturday and Sunday, respectively. It was his first time finishing in the top-15 and top-10 in Supersport. He raced aboard a new-to-him 2019 Yamaha YZF-R6, which he had not had many opportunities to ride on a racetrack before the PittRace event.

LaRoche began racing professionally in 2016 and has competed part time in MotoAmerica's Supersport and Superstock 600 classes. His previous best performances were two top-10 finishes in Superstock 600 at Pitt Race in 2017. Superstock 600 was a feeder class for Supersport, MotoAmerica's premier middleweight class.

LaRoche had endured challenging weekends the last two years at his home round on the MotoAmerica schedule. He qualified 22nd and 18th in 2018 and 2019, respectively. In 2018, he finished 16th in one race and failed to finish the second contest. At the 2019 edition of the event, LaRoche finished 16th in the Saturday race and crashed out of the Sunday race.

LaRoche credits his improved racing performance to Ken Hill, a motorcycle road racing instructor LaRoche met through teaching at several Yamaha Champions Riding School events.

MotoAmerica's Supersport Class features lightly-modified production-based motorcycles – road-legal sportbikes that can be purchased at a local motorcycle dealership.

MotoAmerica took over operating the AMA Superbike Championship in 2015 and features the nation's top motorcycle road racers competing in five competition classes at racetracks across the country. The series is sanctioned by the American Motorcyclist Association, which also sanctions AMA Supercross and thousands of recreational and competition-oriented motorcycling events throughout the nation each year.

C.J. LaRoche / #20
"It was a great weekend and, without a doubt, the team's most successful to date. There are a lot of very talented riders competing in MotoAmerica's Supersport Class, and working with Ken [Hill] helped close the gap to them. I'm surrounded by a fantastic team that kept my Yamaha R6 in top condition.  It felt great rewarding them for their hard work with two strong finishes. The entire team is looking forward to more good results at the Indianapolis round."
The following is from Travis Wyman Racing…
Travis Wyman is no stranger to making the podium in MotoAmerica competition, but the third place he scored in Sunday's Stock 1000 race at Pittsburgh International Race Complex was a symbolic triumph over adverse circumstances.
Despite racing through pain in his surgically repaired left elbow to contending with numbness in his right arm and leg late in races –- and having to do a motor swap on the team's 2020 BMW S 1000 RR on the Thursday before the race –- Wyman's performance at the Aug. 7-9 event was his best of the season. It was his first podium appearance since Round 3 of the 2019 season at VIRginia International Raceway.
Wyman had his freshly repaired BMW's potential on full display Friday. He finished both qualifying sessions in second place and claimed his first front-row starting grid spot of the 2020 season. He missed taking pole position by 0.072 seconds.
Saturday ended on a high note for the team. In the morning practice session, the team opted to test a new set-up, but it didn't work out as planned and Wyman ended the practice session in seventh. In the Saturday Stock 1000 race, Wyman got good start and was running in fourth when the race was red flagged due to a crash that collapsed a section of air fence. When the race restarted with eight laps to go, Wyman got another good start and was running in second for the first two laps of the race. Though he dropped to fourth place on Lap 3, Wyman was in the group vying for the race lead when a false neutral at Turn 1 sent him off-track. He rejoined the race in eighth place and was able to make up a position to finish seventh. In the Saturday Superbike race, Wyman finished 10th and had the best finish of the Superbike Cup riders.
Sunday's Stock 1000 race was the team's shining moment so far in 2020. Wyman got another good start and was running second – hounding the race leader – in the race's early stages. However, numbness in Wyman's right arm and leg – a result of Wyman having to change his riding style to accommodate his nagging left elbow injury – caused his pace to slow. Despite the setback, Wyman still finished on the podium and showed that he will be contending for Stock 1000 victories as soon as his elbow has fully healed. In the Superbike race, Wyman was able to maintain a consistent pace – even with the pain in his elbow increasing as the race went on – to claim his second top-10 finish of the weekend in Superbike.
Though there were some setbacks, the Travis Wyman Racing BMW team ended the weekend in as good a position as it had started it. Wyman maintained fifth place in the Stock 1000 Class standings and second place in the Superbike Cup points. It will be Wyman's first time racing at Ridge Motorsports Park in Shelton, Wa., when the next MotoAmerica round takes place there Aug. 28-30.
Travis Wyman / #10
"We were fast right out of the gate this weekend, and it was the first time I've been able to push the bike from the get-go. I felt really good about the bike heading into Saturday's races, and I was hanging with the leaders for most of the race. The false neutral was unfortunate and caused me to run off track, but we still came away with good points from that race. We made an adjustment to the shifter before the Superbike race, and it was great being the top-finishing Superbike Cup rider on Saturday. We made some setup changes to our BMW S 1000 RR Sunday morning, and my fastest lap in the day's Stock 1000 race was about two seconds faster than my previous best lap at Pitt Race. I got a good start and was pushing hard to stay with the race leader as long as I could. Though the numbness in my right limbs kept me from maintaining the pace of the leaders, it was great to be back on the podium. The weekend as a whole was a win for the team, because we keep progressing even with all the setbacks we've had with me and the bike. We're finally getting into the cusp of it and running up front. Steve Weir and Alex Torres did a stellar job again this weekend, and I can't thank Mark Buche from BMW North America enough for getting us this new engine that we raced this weekend."
The following is from ForzaGP…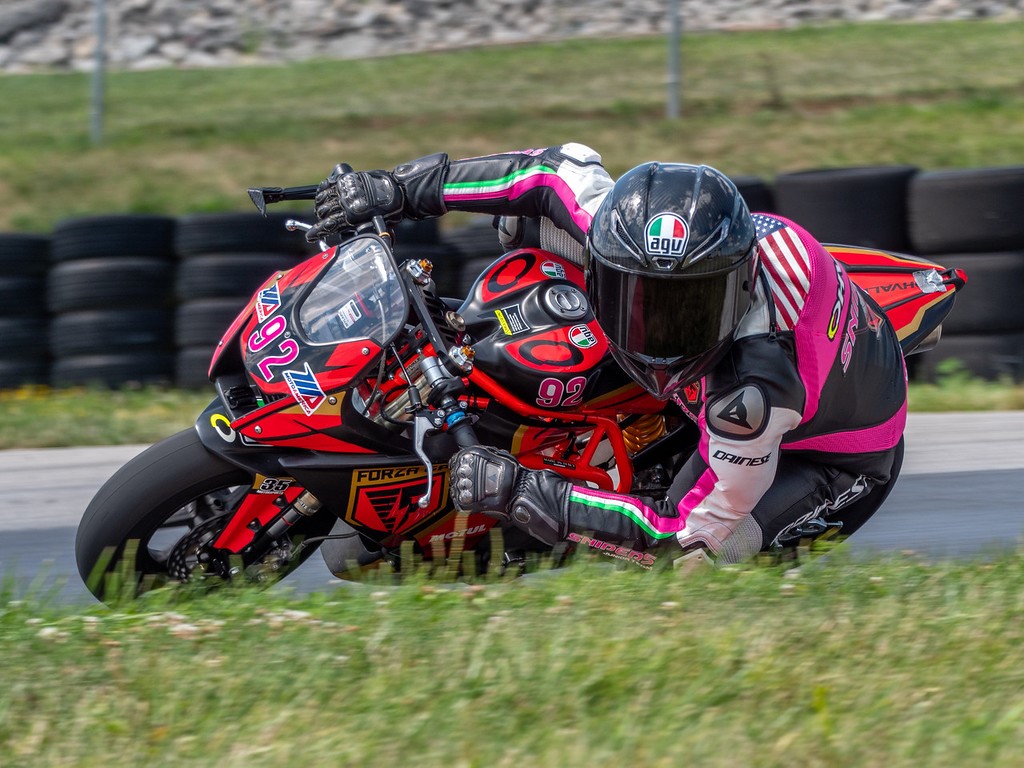 Rossi Moor (Portland, OR) again put the incredible performance of the Ohvale GP-0 and his raw talent on display during Round 2 of the MotoAmerica MiniCup by Motul series at Pitt Race by pushing the bike and PMT tires to the limit every lap. 
The twelve-year old ForzaGP Snipers Junior Team rider secured pole position for the 190cc heat race with a blistering 1:00.237. After a restart due to a red flag incident, Rossi was able to get a good start off the line and gradually increased the gap over the rest of the field. The final margin of victory was 10.895, with Jesse James Shedden coming in second. For the main, Rossi got the hole shot and steadily pulled away, ultimately winning the fourteen-lap race with a 13.850 second margin of victory. Rossi leads the series in the 190cc class going into the final round.
The ForzaGP Snipers Junior Team was able to put a strong 190cc bike and solid setup under Rossi for the weekend. The team opted for a full front and rear Ohlins package for round two, rather than the stock DMN suspension used in round one. After some minor adjustments to gearing and geometry, Rossi's confidence in the bike allowed him to push his race pace to consistent 1:00s.
"It was an awesome race weekend, but with some minor challenges," Rossi explained. "No matter what happens, I always enjoy racing motorcycles. We were able to get a good setup on the bike through free practice, and I felt confident going into qualifying that I would be able to secure pole. Then I was able to keep the pace and win the heat and main races.
"Thank you to everybody who helped me throughout the weekend. Thanks to my managers, Nathan Fitzgerald with ForzaGP and Stefano Favaro with Snipers Junior Team. A very special thank you to the Banish family, my tech Ed Billet, my moto family Ed Enriquez, Kuni Matsudaira, and Rueben of 35 Motorsports! And of course, thank you to Dainese, AGV, and Ohvale USA."
Team manager Nathan Fitzgerald commented on round two; "It's very cool to see the MotoAmerica MiniCup series find its footing and evolve into a formidable testing ground for young racers. I'm seeing the other competitors really rise to the challenge and get very quick as their confidence increases. Even though Rossi had incredible pace, he's always pushing for that extra tenth. He really wanted a :59 second lap, but in the end, we just needed to focus on consistency, which Rossi was able to accomplish. I think this is only the beginning for Rossi's career and a very exciting future of motorsports in the US thanks to Ohvale and MotoAmerica."
Round three of the MotoAmerica MiniCup by Motul will take place at Ridge Motorsports Park kart track in Shelton, Washington on August 28-29 during round five of the MotoAmerica Superbike series. 
The following is from Suzuki…
Suzuki Motor of America, Inc. and M4 ECSTAR Suzuki followed up last weekend's abundant trophy haul at Road Atlanta with three additional podium finishes this weekend as the MotoAmerica AMA/FIM North American Road Racing championship completed Round 4 of the 2020 season at Pittsburgh International Race Complex in Wampum, Pennsylvania.
And like at Road Atlanta, it was the team's two 18-year-old prodigies who registered the weekend's highlight performances for the squad. Sean Dylan Kelly continued his consistent excellence in MotoAmerica Supersport action, hustling his M4 ECSTAR Suzuki GSX-R600 to a pair of runner-up finishes. The twin seconds upped the Floridian's impressive string of first- or second-place finishes to seven. On Saturday, 'SDK' battled for the lead over the race's opening half before settling into a clear runner-up position.
On Sunday, he had to fight for second right down to the checkered flag, losing the position on the final lap only to reclaim in the race's final corner and then win the sprint to the checkered flag. Kelly said, "In today's race, I knew where he wanted to pass me because I could hear him there every lap. I tried to block it but went a little wide and he got me on the switchback. He then tried blocking me in the last corner, but he went a little wide, so I said, 'Okay, perfect.' "We're here to fight for the win, and I gave it my 100% in both races but it just wasn't enough. Everyone with M4 ECSTAR Suzuki is pushing their hardest. I wish I could have given them another win this weekend, but it wasn't to be.  "Overall, I'm happy because I gave it all I had, but I'll admit it was a struggle because we really want to win — that's our goal — and we just didn't have enough to do it. It's not easy fighting a displacement disadvantage but we're going to keep on working and we'll come back at Washington and do what we can. I'm looking forward to getting to an even more technical track and we'll look to bring home a couple wins."
Fellow teenage sensation Alex Dumas extended his meteoric rise with his best showing yet since throwing a leg over the fire-breathing M4 ECSTAR Suzuki GSX-R1000 in the Stock 1000 class. While Dumas was expected to take some time coming to grips with a literbike after coming off back-to-back national titles in the MotoAmerica Junior Cup and Twins Cup classes, the French Canadian was fast from the start and only continues to get faster as he gains experience. After improving from seventh to fourth to third to second in his first four races in the class, Dumas very nearly finished off the run with a win on Saturday. He slashed up from fifth to first only to narrowly lose out on the win on the final lap and 'settle' for another second. 
"I had a really good race," Dumas said. "I didn't get a great start but I got through almost everybody. I was catching the lead little bit by little bit and then I got through in Turn 7 thanks to getting a really good run in 6. 
"I gave it everything I had but just came up short on the last lap. I was pretty fast coming out of Turn 14 and coming onto the back straightaway, but I almost highsided. After that there was nothing I could do."
Dumas followed that up with a fourth in Sunday's Stock 1000 race before making his MotoAmerica Superbike debut later in the afternoon. There he proved to be a quick learner as well, picking up a top-ten finish with a ninth in his maiden premier-class attempt despite running a considerably more stock-spec machine than the established class' frontrunners.
The team's decorated Superbike regulars had a more difficult weekend. Road America race winner Bobby Fong battled for second in Saturday's main event before a crash took him out of contention at mid-distance.
Unfortunately, the Californian injured his left thumb in the fall. While he made a brave attempt to collect some points on Sunday, he was ultimately forced to retire from the race due to the pain and lack of grip strength.
2017 MotoAmerica Superbike champion Toni Elias scored a pair of top-five finishes on the weekend. The Spaniard took over fifth on the final lap of Saturday's race and backed that up with another fifth on Sunday, taking the checkered flag on his M4 ECSTAR Suzuki GSX-R1000 with a podium finish less than two seconds up the road.
Finally, Lucas Silva extended his perfect season's run of top-ten finishes in MotoAmerica Supersport competition. The young racer notched up his third consecutive sixth-place finish on Saturday and then backed that up with a strong seventh on Sunday. Additionally, Cameron Peterson (Altus Motorsports Suzuki) and Rocco Landers (SportbikeTrackGear.com Suzuki) won on bikes built by Team Hammer.
The team will return to action on August 28-30 when the '20 season resumes at Ridge Motorsports Park in Shelton, Washington.
The following is from Suzuki…
Altus Motorsports rider Cameron Petersen completed the perfect weekend at the Pittsburgh International Race Complex by taking pole position, winning both races convincingly and claiming the championship points lead in the MotoAmerica Stock 1000 class.
Petersen started the weekend strong by taking pole position with a blistering time of 1:43.824 on his Altus Motorsports GSX-R1000. Starting from pole position, Petersen battled all race long and traded positions with fellow Suzuki GSX-R1000 rider Alex Dumas until the final laps when he took the lead for good and secured the win on Saturday.

The young South African rider then continued his success on Sunday in race two, taking the lead from the very first lap and continued to ride tenaciously for the remainder of the race taking another hard fought win over a field of strong contenders in the class.

"That was a better race for sure," said Cam Petersen after race two, " We found something this morning and we were able to push throughout the whole race. The pace was way quicker than it was yesterday, but I'm not going to let those wins go that easily."

Cameron Petersen takes his Stock 1000 championship points lead to the fifth round of the MotoAmerica roadracing championship at the Ridge Motorsports Park August 28-30 in Shelton, Washington.